ATM PROGRAMS
Hotel ATM Program
In the hotel business, convenience for your guests is a big plus. Our Hotel ATM program provides a way to make providing this convenience profitable.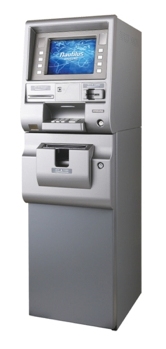 Safe and simple access to cash. Having an ATM on-site gives your guests peace of mind when needing cash. Our ATMs have access to a number of networks, guaranteeing acceptance of your guests' bank or credit cards.
On-screen advertising and custom coupon dispensing. With the ability to advertise on-screen and dispense coupons, you can profit from this by offering the space to retail tenants, tour & activity companies, nearby restaurants, etc.
Instant revenue. Your ATM generates revenue the first and every time it is used.
Bank ATM Program
Our Bank Placement program helps your bank expand its off-premise deployment with ease.
Generate new customers through off-premise ATMs. With an ATM off-premise & through the use of on-screen advertising, you can advertise specials on loans, credit cards, accounts, and other services that your bank provides, attracting potential customers.
We do reports. We provide detailed transaction activity reports and vault cash reports, leaving you more time to dedicate to other important tasks.
Revenue generation. Off-premise ATMs can generate revenue when non-bank customers use your ATM.
Enhance customer satisfaction. By having a large base of off-premise ATMs, you can save your customers money when they travel to different cities by offering them free, convenient access to their cash.
Supermarket ATM Programs
Our Supermarket Placement program makes having an ATM easy and profitable, as well as making your supermarket more convenient for customers.
On-screen advertising & custom coupon printing. With the ability to customize your ATM machine with on-screen advertising and coupon dispensing, moving out old inventory and introducing new products becomes quick & easy.
Eliminate bad check loss. Not all of us have debit cards, and bad checks are not a thing of the past yet. Your ATM can help eliminate bad check loss altogether by giving customers quick & convenient access to cash.
Convenience. Making your store convenient for your customers can enhance customer loyalty and bring more customers to your establishment.
Revenue potential.
1- Your ATM can boost your store's revenue in a number of ways: Your ATM puts cash in your customers' hands. On average, a customer will spend about 40% of their withdrawal on the spot.
2- Each time your ATM is used, it generates revenue. Customers pay a convenience fee to use the ATM machine.
3- Advertising space on your ATM can also generate revenue.